With the NEW SmileKonnect MiFi device you will have the freedom to travel abroad without being concerned about additional data roaming costs. The SmileKonnect MiFi enables seamless access to the internet in more than 80 countries worldwide, and in Nigeria too. One device for seamless SuperFast local and international internet.
Stay in touch with family and friends on the Smile network with unlimited, FREE voice calls using the SmileVoice App. Connect your phone to your SmileKonnect device via Wi-Fi or connect to any other Wi-Fi network. You can also make calls to any number in the world using SmileVoice where international call rates will apply.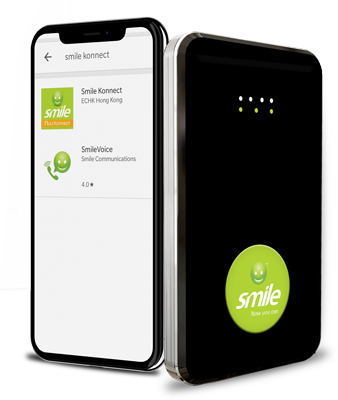 Get the NEW SmileKonnect device + AlwaysON local data + 1GB international roaming data for only N25,000. You will also enjoy UNLIMITED, FREE on-net calls and SMSs plus 10 mins FREE local calls.
FREE SmileKonnect App
Download the FREE SmileKonnect App (for Android and iPhones) on your mobile. Use this App to buy the data roaming bundle for your needs. Have a look at how to buy a roaming data plan on the App.
| Data Plan | Plan Validity | Price ($) |
| --- | --- | --- |
| Smile Roaming 1GB | 1 day | $8.33 |
| Smile Roaming 2GB | 1 day | $16.66 |
| Smile Roaming 1GB | 7 days | $19.44 |
| Smile Roaming 2GB | 7 days | $33.34 |
| Smile Roaming 5GB | 30 days | $55.55 |
For a seamless roaming experience abroad, take your SmileKonnect device with you.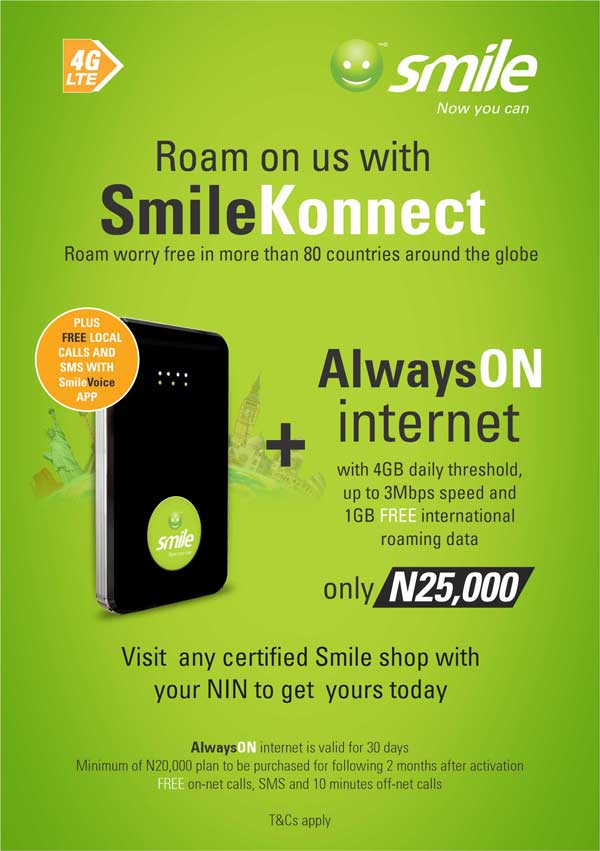 You can enjoy data roaming in the countries listed here.
Lao People's Democratic Republic
Taiwan, Province of China